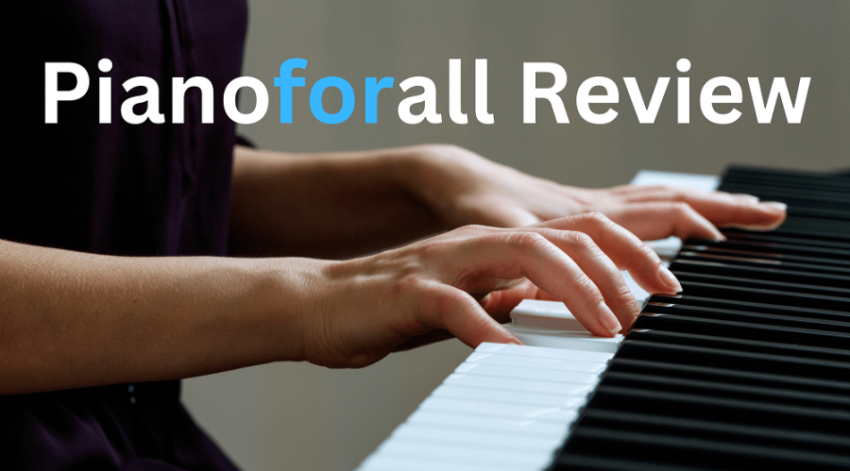 Use code SAVE20 for an additional 20% off
What Is Pianoforall and Is it Any Good?
Pianoforall is an excellent way to learn piano. It flips the traditional method on it's head.
Pianoforall focuses on playing first, understanding later. You learn how to play first, then you are shown what the musical notation looks like. It is so much easier this way.
This unique teaching method will have you sounding good in days, while playing songs you actually like.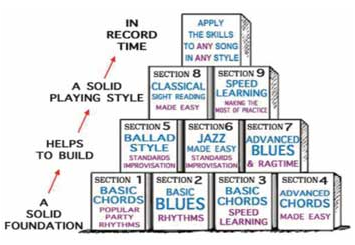 You will see much faster results than with traditional methods. It's also very affordable compared to other options.
Keep reading below for my full Pianoforall review and check out the testimonials from other students further down the page. Including a video review from a professional musician.

Pianoforall Review: Quick Look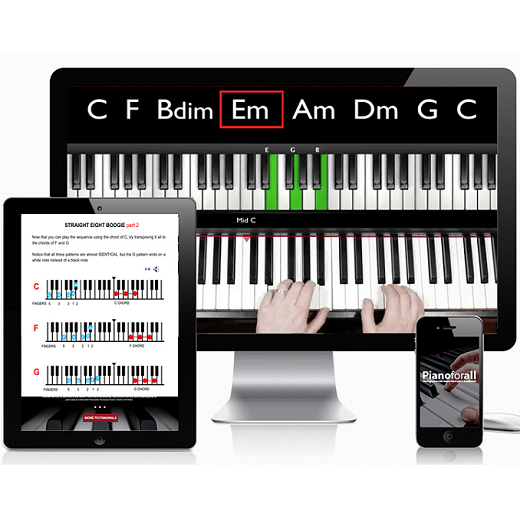 Pianoforall Online Piano Lessons For Adults
Full Student Review
My name is Debbie. I recently started relearning how to play the piano, after a break of many years. Decades in fact.
I learned classical music as a child. I had piano lessons a couple of times a week and worked my way through a big part of the Trinity College of London course in classical piano.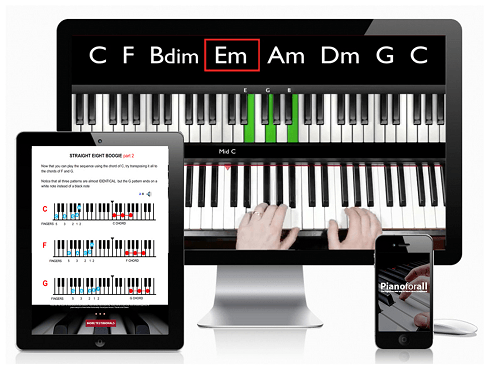 Unfortunately I've discovered that muscle memory doesn't seem to last for decades, (In my case at least) and sheet music looks  completely foreign to me now.
It's hard to believe I used to be able to sight read fairly complicated pieces of classical music.
As I relearn however, it is all starting to feel familiar. Memories are triggering and my confidence is improving.
I was attracted to Pianoforall because  according to Robin Hall (the teacher) and reviews I read, it is particularly aimed at adults students.
It's also one of the most affordable options available. (Less than the cost of one in person lesson in many countries)
Use code SAVE20 to make it even more affordable
It's suitable for both beginners and those wanting to relearn or refresh their skills, so it sounded ideal. Keep reading below to find out exactly what you get with the Pianoforall course…
So What Do You Get With Piano For All?
9 Interactive E-books (with videos and audios embedded)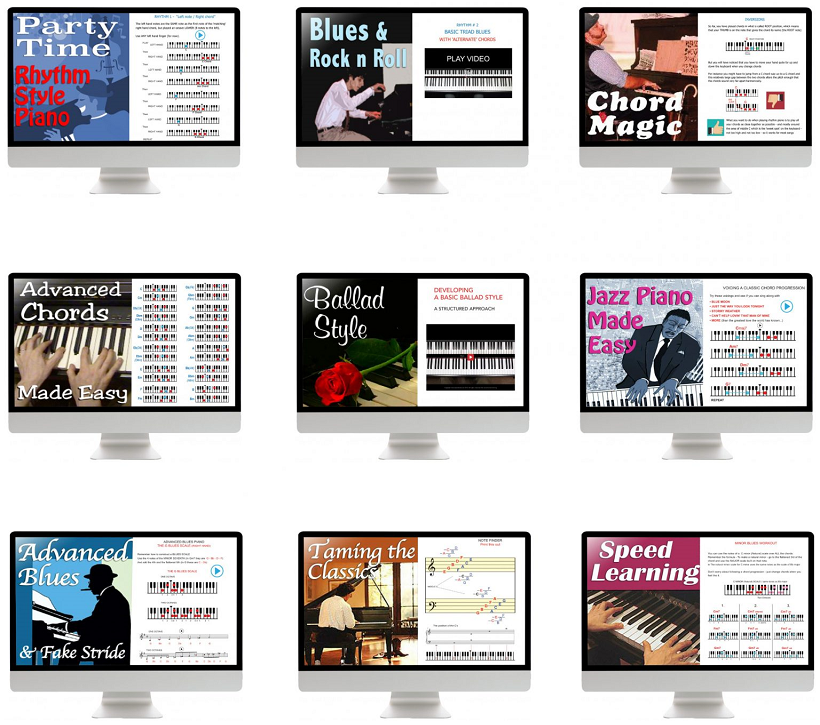 This is a great way to learn, as you have everything you need all in one place. You also don't need to be online to access the e-books. You simply download them onto your device. Or multiple devices if you wish.
Every lesson starts with a video, where Robin Hall (your teacher) explains new knowledge and skills in a very practical way.
This is followed by text and audio that go over what you have just learned and show you what and how to practice.
One of the biggest benefits of this way of learning is that you play real music from the beginning.
300 Video Lessons
I love the videos as you get to see Robin's hands on the keyboard and also a virtual keyboard above with colored keys.
This makes it very clear if you want to double check which keys are being used.
With my eye sight not being the best I found this very helpful.
500 Audio Tunes and Exercises
The audio tunes and exercises reinforce what you have just learned in the videos.
Learning Theory with Pianoforall
You are also shown musical notation and learn to read sheet music as you progress.
This is the main area that Pianoforall differs from other courses. With Pianoforall playing comes first.
You are shown what the musical notation looks like after you have learned how to play something. The theory just makes sense of what you have already learned. It's actually much easier this way.
Pianoforall Curriculum
Each interactive e-book has a specific topic and helps you develop specific skills. There is a logical progression from one book to the next. So it is important to work through them in order.
The only exception to this is book 9, with speed learning tips and exercises, which can be used at any stage as you progress through the course. This will help you get more out of the other e-books.
Here are more details about what is inside each of the 9 e-books:
Book 1: Party Time Rhythm Style Piano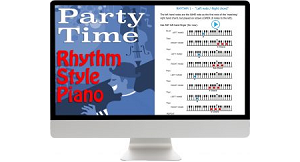 Start playing impressive piano rhythms right away using piano chords, including 15 popular party rhythms and beautiful ballads with detailed keyboard diagrams, helpful tips, techniques, and various chord progressions inspired by classic songs.
In just a few days, you'll be the center of attention at any party.
Book 2: Blues and Rock 'n' Roll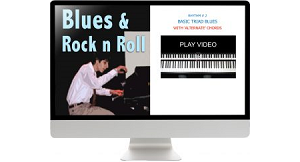 You will be able to play iconic Blues and Rock 'n' Roll piano with instantly recognizable rhythms that can be applied to many classic songs.
Impress your friends with the sounds of famous musicians like Fat's Domino, Jerry Lee Lewis, and Little Richard. It's simple once you learn how to do it.
Book 3: Chord Magic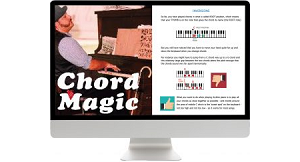 Acquire additional piano chord knowledge through clever memory techniques and practice playing common song progressions. Improve your chord transitioning speed by learning inversions.
With the assistance of a unique chord chart and exercises for speedy learning, you can become proficient in playing chords quickly.
Book 4: Advanced Chords Made Easy
Pianoforall offers a simpler method, rather than a technical one, for learning advanced chords.
The program provides numerous practice progressions modeled after popular piano songs, making it an excellent approach to mastering new chords.
Book 5: Ballad Style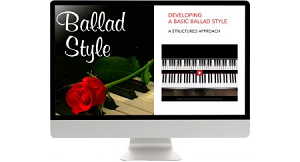 With your understanding of chords, you'll be able to produce a fantastic ballad style and use it for melodies by following three straightforward steps.
You'll have fun learning to improvise and compose your own tunes. You will be able to play impressive songs by the conclusion of the book. Not basic or boring piano playing, you'll sound like a pro.
Book 6: Jazz Piano Made Easy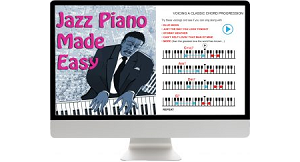 Imagine yourself as a stylish jazz pianist performing in a dimly lit bar. Now it's your chance to shine using incredibly effortless techniques that can be applied to any melody.
This comprehensive guide includes everything from standards and traditional jazz piano to modern improvisation, impressive runs, catchy riffs, various chord patterns, blues scales, and more.
Book 7: Advanced Blues and Fake Stride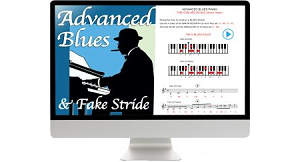 Book 7 delves deeper into the blues piano techniques that were introduced earlier, providing a variety of methods to enhance your playing and improvise blues piano over the rhythms you've been practicing since book 2.
Additionally, you'll be instructed on how to play 'fake stride' and a superb rendition of The Entertainer.
Book 8: Taming the Classics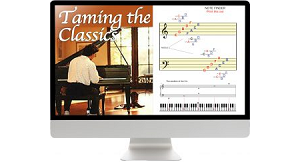 Pianoforall teaches you how to play piano by ear and read sheet music.
By combining your knowledge of chords with Pianoforall's sight reading aids, you can confidently approach and master classical pieces from a range of famous composers, including Beethoven, Mozart, Bach, Chopin, Strauss, Brahms, Verdie and others.
Book 9: Speed Learning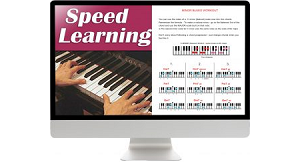 Although playing scales and exercises may be unappealing to many, they are effective in accelerating the learning process. Furthermore, it is possible to make them enjoyable.
This book provides a plethora of enjoyable exercises and memory aids  that can be used at any point in the Pianoforall course. The exercises cover every key.
What Will You Need to go Through the Course?
The two things you will need to go through the Pianoforall Course are a device to download the course onto and a piano or keyboard.
The course works on all devices. PC, Mac, Android, iOS, Tablets, Phones. You can download the interactive e-books onto as many devices as you want. There is no need to be online as you go through the course.


The books are in .epub format, which contains the text, audios and videos, so you will need something that's capable of opening and reading them.
You will need the Kotobee reader app for Windows and Android, and the Books app for Mac products. Both of these apps are free and quick and easy to install and use.
There are also PDFs you can download and print out if you wish.
As far as a keyboard or piano goes Robin Hall, the Pianoforall creator, recommends getting at least a 61-key keyboard. Anything less and you will likely feel you don't have enough keys as you progress. I have to say I agree.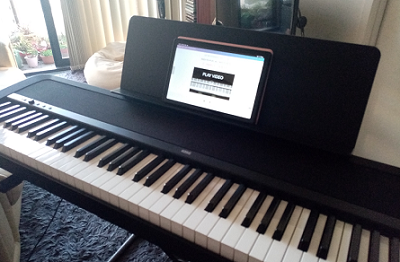 I have an 88-key digital piano with weighted keys. It sounds and feels just like a Piano. My son has a 61-key keyboard. When he was deciding to buy himself the keyboard he was considering getting one with 49 keys to save money. I advised him to go for the one with 61 keys. He's glad he did now.
If budget is an issue there is always the option to buy second hand. Todays digital pianos and keyboards have very long life spans if you look after them. So a good second hand instrument can provide you with many years of joy.
Acoustic Pianos are more expensive and require more maintenance than their digital counterparts. Of course buying second hand is an option here too.
Who is Pianoforall Best Suited For?
The Piano For All course is best suited for beginner adult students. However if you have some classical training it could be very useful for you as well. It's very different from traditional methods and teaches you how to improvise and play by ear.
Pianoforall is for anyone who just wants to learn how to play songs quickly. With a dive right in and play straight away approach. With much more emphasis on actually playing, rather than theory.
Pianoforall Reviews from Customers
I've picked up more in the short time I've had your course (I'm up to Ballad Style) than with the all the other methods I've tried. Thanks so much for the most logically arranged, easiest to follow, and best 'bang for the buck' piano course I've seen, and used. Sincerely,
Barry Polis, Georgia, USA

Dear Robin, I just wanted to Thank You for the incredible program that you have put together.  I must say that you over delivered on this one. I couldn't believe it, and neither could my wife!  Within an hour, I was making music. My whole family can't believe I really learned all I have in less than 3 days! I will tell everyone I know, who's ever thought about playing piano or keys that this is the real deal and I hope if you use this testimonial that all who read it will believe me.
Pastor JD Loveland, Santee, CA, USA

Hi Robin, A belated note to say a very big thank you for putting together such an interesting, motivating, straightforward approach to piano playing! I absolutely love the techniques, I'm playing everything now and it's so exciting!!! I'm still only on Book 1 and I've learned so much already, I can't imagine what you have in store for us in the other books.
Jane Grey, London, UK

Since I was little I have always wanted to play. I'm now 38 years old, have never played, and with your program I was able to go through the books and videos step by step and now I'm purchasing piano books to play songs to enjoy. I have to say that my husband was very skeptical but you have made him a true believer in your teaching program!
Soony Williams, California, USA

Thanks for everything.  With two days of use I already feel like I've gotten my money's worth out of your course.  I think my other daughter, my wife and I are all anxious to learn too.  If only we had another piano and possibly an additional computer to learn on
Dave Millette, Nevada, USA
Note: All of these testimonials are verifiable. You can even request the email of the person who wrote the testimonial if you want to have a chat with them. No other piano lesson website offers this.
This is just a small selection, there are many more on the Pianoforall website.
Pianoforall Video Review 7 Years On
Alon's Pianoforall review above is one of the best video reviews I could find. I have to say I agree with pretty much everything he says about the course.
Alon is a professional musician who plays both keyboard and guitar in a couple of bands. And 90% of what he learned about how to play piano came from the Piano For All course.
Piano For All Pros and Cons
Pros
1. You start playing straight away. This means you feel like you have achieved something right from the very beginning.
2. Pianoforall has been designed so that you can achieve a professional sound within DAYS. This will keep you motivated to keep learning.
3. You learn how to play first and understand theory after. It is much easier to learn musical notation when you already know how to play. In my experience at least.
4. Pianoforall lays a foundation that can be applied to any musical style or direction you wish to take.
5. You don't need to be online to access the course. You can easily download it onto your devices.
6. This course covers a wide range of music genres from jazz and blues through to briefly touching on classical music. It will give you a solid understanding of the different genres. A good foundation upon which you can expand according to your musical tastes.
7. Pianoforall is very affordable. It is a small one time price for a lifetime membership, including all future updates. Most other online piano courses have a monthly subscription. Those that do offer a lifetime membership are usually several hundred dollars.
Use code SAVE20 for an additional 20% off
Cons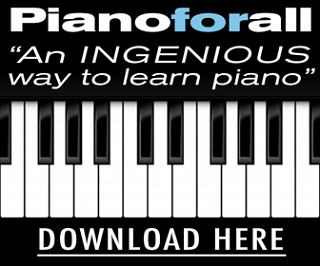 1. Although Pianoforall uses well known songs, they are all oldies. I think it would be good if recent popular songs were added into the course. I personally like a lot of the older songs, however I think the course would appeal more to younger adults if some recent songs were included.
2. My son who has also been going through the course said he feels like he needs a bit more depth in some parts of the course. I think the idea with this course is to lay a good foundation across a range of genres and then you can choose to go into more depth according to your own interests.
UPDATE: The Pianoforall course has been updated recently due to student feedback. Both the above issues have been addressed with more recent songs added and more in depth explanations where needed.
Student Q and As have also been added at the end of lessons, where you will find the answers to commonly asked questions.
Pianoforall is an ever evolving course and student feedback is always welcome. You can also reach out to support anytime you want. Membership includes free life time updates and ongoing support.
Pianoforall Review Final Thoughts
Pianoforall is a very affordable, easy to follow piano course that allows you to learn piano from home.
Robin Hall's unique teaching style will also have you sounding better a lot faster than traditional piano lessons.
This course is a great place to start for adult beginner piano players.
Pianoforall FAQs
1. Is Pianoforall good for beginners?
Pianoforall is aimed at beginners. Particularly adult beginners. It is also good for refreshers and those that have learned some classical piano. It will teach additional skills such as how to improvise and play by ear.
2. How much time will I need to spend practicing each day?
Pianoforall is structured so that you will see rapid progress even if you can only practice 20 to 30 minutes per day.
3. How long is Pianoforall?
If you practice for 20 to 30 minutes a day, there is enough here to keep you busy for many months.
4. Is Piano For All Worth the Price?
Pianoforall is probably the most affordable course available. It is also a one time payment with free lifetime updates. Use code SAVE20 for an additional 20% off
Pianoforall Review: Our Final Score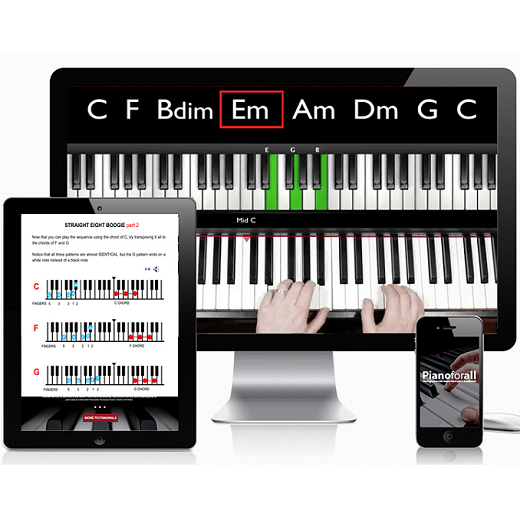 Pianoforall Online Piano Lessons For Adults
Last Updated : May, 31st 2023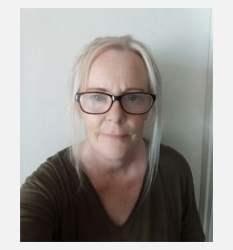 Latest posts by Debbie Lee
(see all)