Use code SAVE20 for an additional 20% off
What Is Pianoforall and Is it Any Good?
If you've been looking for a way to learn piano online, no doubt you will have come across Pianoforall.
With over 450,000 students worldwide,  Pianoforall is one of the most popular online piano courses available.
It is especially recommended for adult students and can take you from a beginner to an intermediate player faster than traditional piano lessons.
Check out Alon's Piano For All review above. It's one of the best video reviews I could find and I have to say I agree with pretty much everything he says about the course.
Alon is a professional musician who plays both keyboard and guitar in a couple of bands. And 90% of what he learned about how to play piano came from the Piano For All course.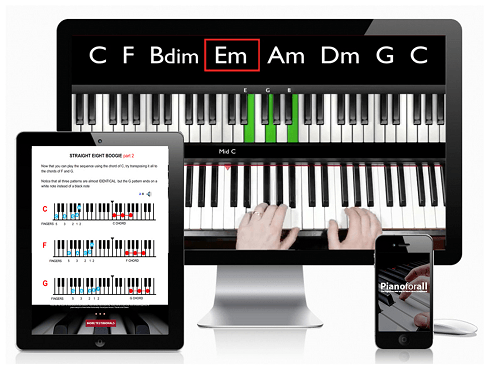 I've recently started going through Piano For All myself. Although I'm coming from a completely different background than Alon.
I started relearning how to play piano recently, after a break of many years. Decades in fact.
I learned classical music as a child. I had piano lessons a couple of times a week and worked my way through a big part of the Trinity College of London course in classical piano.
Unfortunately I've discovered that muscle memory doesn't seem to last for decades, (In my case at least) and sheet music looks  completely foreign to me now. It's hard to believe I used to be able to read fairly complicated pieces of classical music.
As I relearn however, it is all starting to feel familiar. Memories are triggering and my confidence is improving.
I was attracted to Piano For All because according to both the creator, Robin Hall, and reviews I read it is particularly aimed at adults students.
It's suitable for both beginners and those wanting to relearn or refresh their skills.
So What Do You Get With Piano For All?
9 Interactive E-books (with videos and audios embedded)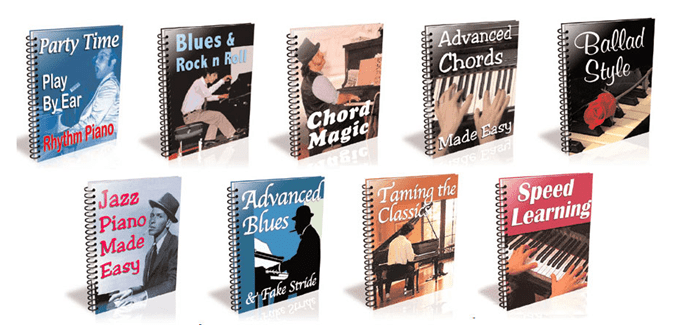 This is a great way to learn, as you have everything you need all in one place. You also don't need to be online to access the e-books. You simply download them onto your device. Or multiple devices if you wish.
Every lesson starts with a video, where Robin Hall (your teacher) explains new knowledge and skills in a very practical way.
This is followed by text which will explain some other details and each lesson then ends with another video showing what and how to practice.
One of the biggest benefits of this way of learning is that you play real music from the beginning.
Most lessons also contain audio files with a piano sheet, which is great for practicing.
300 Video Lessons
I love the videos as you get to see Robin's hands on the keyboard and also a virtual keyboard above with colored keys.
This makes it very clear if you want to double check which keys are being used.
With my eye sight not being the best I found this very helpful.
500 Audio Tunes and Exercises
The audio tunes and exercises reinforce what you have just learned in the videos.
Who is Pianoforall Best Suited For?
The Piano For All course is best suited for beginner adult students. However if you have some classical training it could be very useful for you as well. It's very different from traditional methods and teaches you how to improvise and play by ear.
Pianoforall is for anyone who just wants to learn how to play songs quickly. With a dive right in and play straight away approach. With much more emphasis on actually playing, rather than theory.
Piano For All Pros and Cons
Pros
1. You start playing straight away. This means you feel like you have achieved something right from the very first lesson.
2. The lessons are laid out very clearly and are easy to understand
3. Pianoforall uses well known songs. This really helps when learning to play by ear.
4. Pianoforall focuses on playing, rather than theory. You learn how to play by ear, improvise and create your own melodies. You will learn some theory as you progress through the lessons. However the emphasis is on play first and understand theory later.
5. You don't need to be online to access the course. You can easily download it onto your devices.
6. This course covers a wide range of music genres from jazz and blues through to briefly touching on classical music. It will give you a solid understanding of the different genres. A good foundation upon which you can expand according to your musical tastes.
7. Pianoforall is very affordable. It is a small one time price for a lifetime membership, including all future updates. Most other online piano courses have a monthly subscription. Those that do offer a lifetime membership are usually several hundred dollars.
Use code SAVE20 for an additional 20% off
Cons
1. Although Pianoforall uses well known songs, they are all oldies. I think it would be good if recent popular songs were added into the course. I personally like a lot of the older songs, however I think the course would appeal more to younger adults if some recent songs were included.
2. I wish it was possible to change the speed on the videos. I would like to be able to watch things in slow motion at times.
3. My son who has also been going through the course said he feels like he needs a bit more depth in some parts of the course. I think the idea with this course is to lay a good foundation across a range of genres and then you can choose to go into more depth according to your own interests.
Pianoforall Review Final Thoughts
Pianoforall is an affordable, easy to follow piano course that allows you to learn piano from home.
Robin Hall's unique teaching style will also have you sounding better a lot faster than traditional piano lessons.
This course is a great place to start for adult beginner piano players.
Pianoforall FAQs
1.Is Pianoforall good for beginners?
Pianoforall is aimed at beginners. Particularly adult beginners. It is also good for refreshers and those that have learned some classical piano. It will teach additional skills such as how to improvise and play by ear.
2. How much time will I need to spend practicing each day?
Pianoforall is structured so that you will see rapid progress even if you can only practice 20 to 30 minutes per day.
3. How long is Pianoforall?
If you practice for 20 to 30 minutes a day, you should be able to complete the course in a few months.
4. Is Piano For All Worth the Price?
Pianoforall is probably the most affordable course available. It is also a one time payment with free lifetime updates. Use code SAVE20 for an additional 20% off